Written By Harry Moser
Executive Summary
One bright silver lining to the pandemic is the broad public and corporate realization and acknowledgment of the need to shorten supply chains and produce goods at home. Despite COVID, reshoring numbers were up in 2020. Reshoring and foreign direct investment (FDI) job announcements for 2020 were 160,649, bringing the total jobs announced since 2010 to over 1 million (1,057,054). Also of significant importance: reshoring exceeded FDI by nearly 100%, the first beat for reshoring since 2013. Additionally, the number of companies reporting new reshoring and FDI set a new record: 1,484 companies. Reshoring will continue to be key to U.S. manufacturing and economic recovery in 2021 and beyond.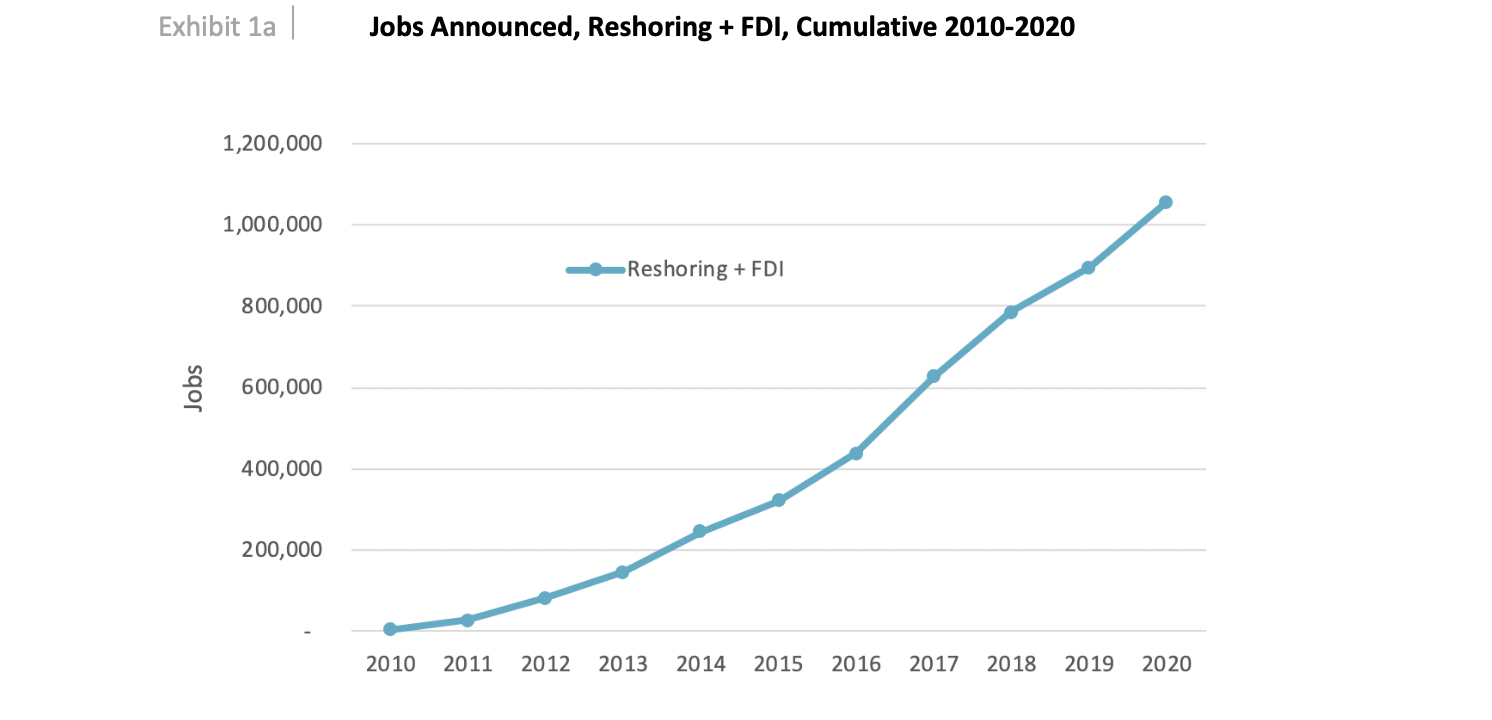 This report contains data on trends in U.S. reshoring announcements by U.S. headquartered companies and FDI by foreign companies that have shifted production or sourcing from offshore to the U.S. The cumulative data includes 2010 – 2020.
Data Index
1. Cumulative Manufacturing Jobs
2. Manufacturing Job Announcements by Year
3. Factors Cited
4. Industry
5. Tech Level
6. Countries From
7. International Regions From
8. State
9. U.S. Region
10. Nearshoring
11. 2021 Trends and Projections
All data is for reshoring plus FDI, 2010 to 2020, unless otherwise noted.


Allowing for a conservative two-year lag until hiring, 787,000 have been hired, equaling over 100% of the 778,000 increase in U.S. manufacturing jobs since the manufacturing employment low of 11.45 million in February 2010 and 7% of total 12/31/20 manufacturing employment of 11.5 million. Note that these %'s will decline as manufacturing employment recovers in 2021.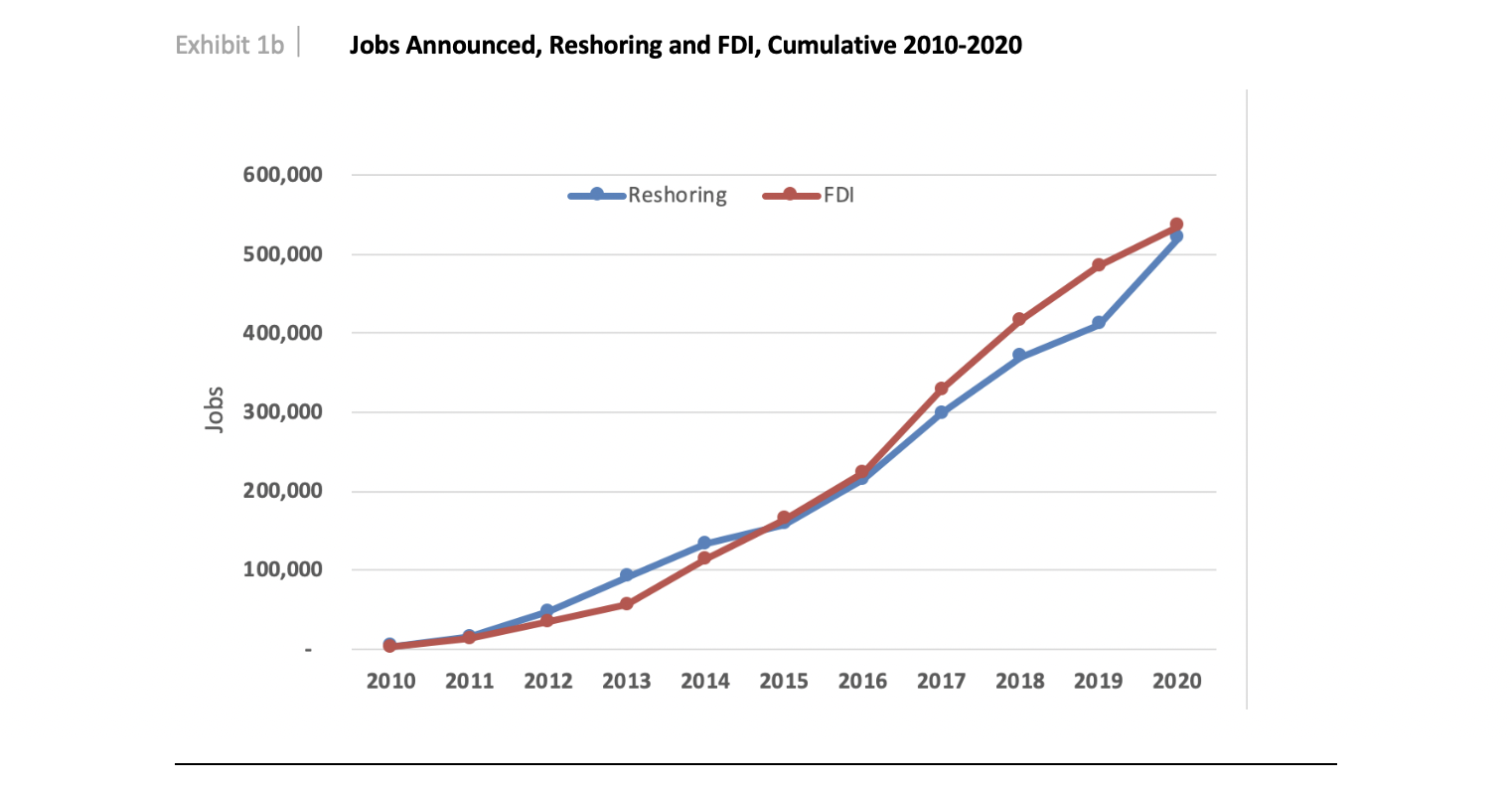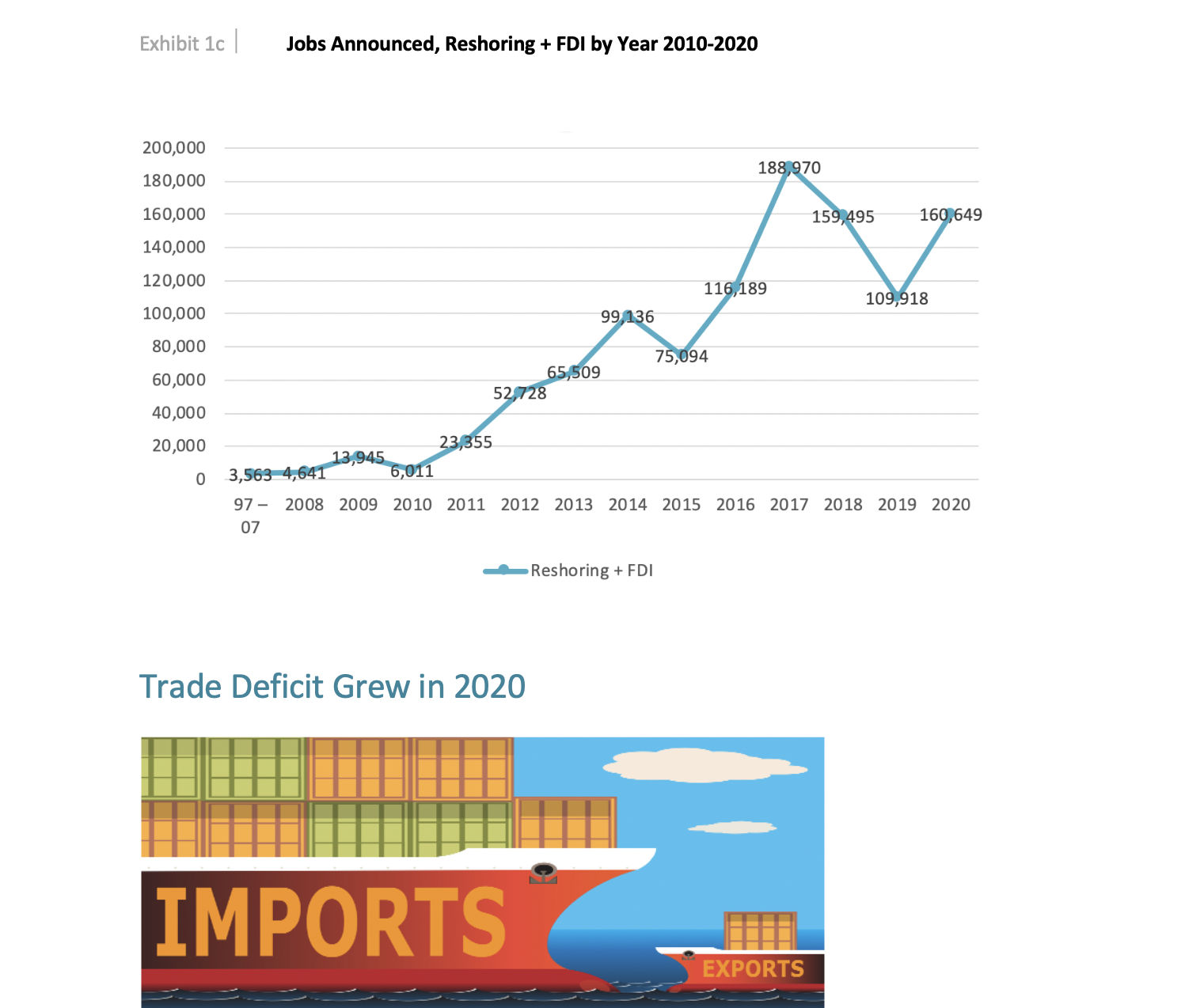 In 2020 non-petroleum goods imports decreased about four percent and exports declined about 11 percent, resulting in an 8% increase in the goods trade deficit to $921 billion. The large drop in exports was primarily due to the world recession precipitated by COVID. The small decrease in imports was largely due to increased imports of PPE and of "stay at home" products, also driven by the COVID pandemic.
There is no measure of offshoring announcements or implementation. We did not observe a high rate of announcements of offshoring. When measured by our overall trade deficit of about $500 billion/year, there are still three to four million U.S. manufacturing jobs offshore at current levels of U.S. productivity, representing a huge potential for U.S. economic growth. Measured by our $900 billion non-petroleum goods trade deficit there are about five million still offshore.
The trend in U.S. manufacturing employment, as per Exhibit 1d, is the best evidence that a combination of less offshoring and more reshoring and FDI is working. The chart shows a regression line based on 1997, before China joined the WTO, to 2006, before the great recession. If the trend had continued, U.S. manufacturing employment would be more than five million jobs lower than the actual level today. Most notably, in past recessions manufacturing employment dropped below the trend line. In the 2020 recession, the surplus above the trend line held approximately constant and is clearly increasing in 2021.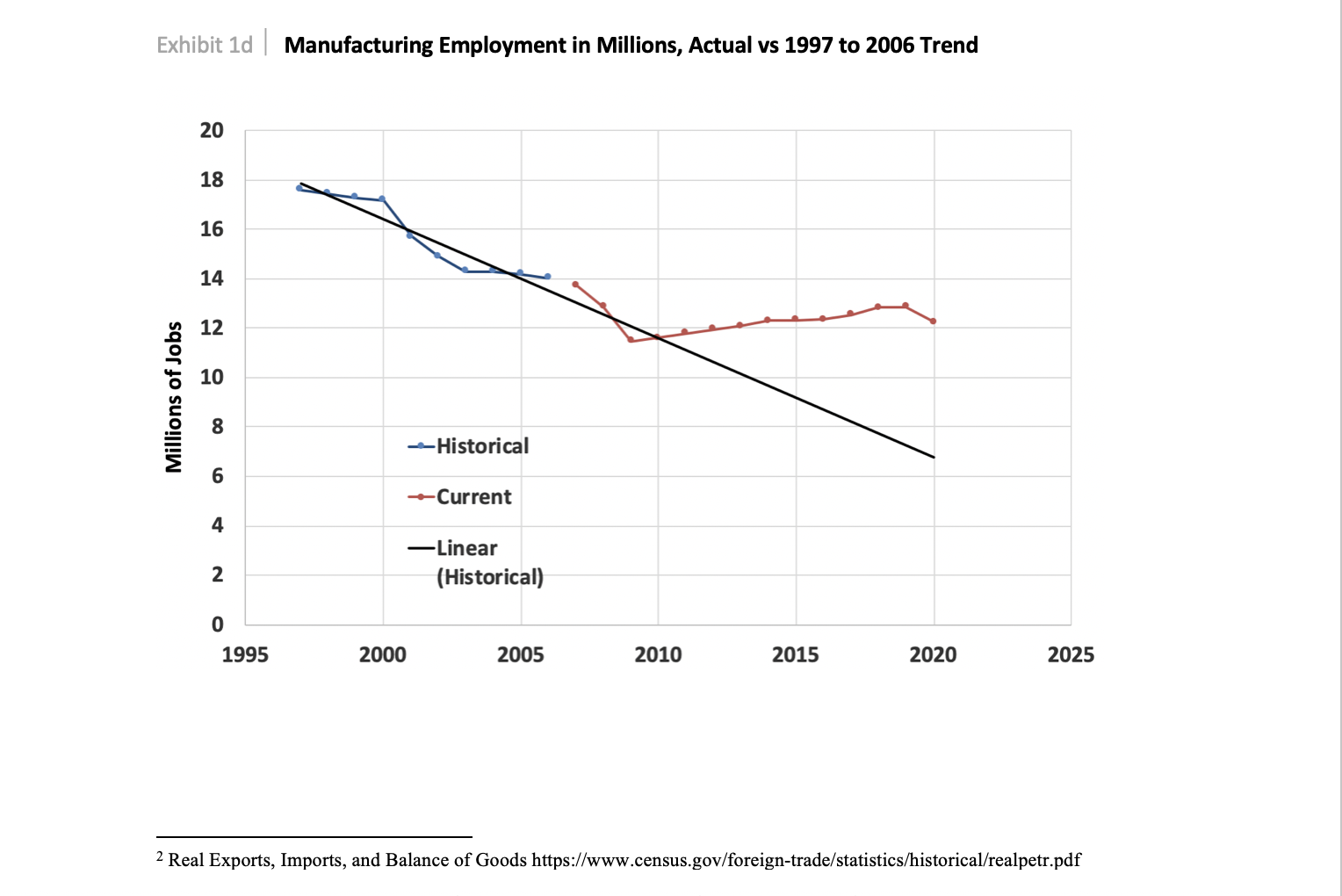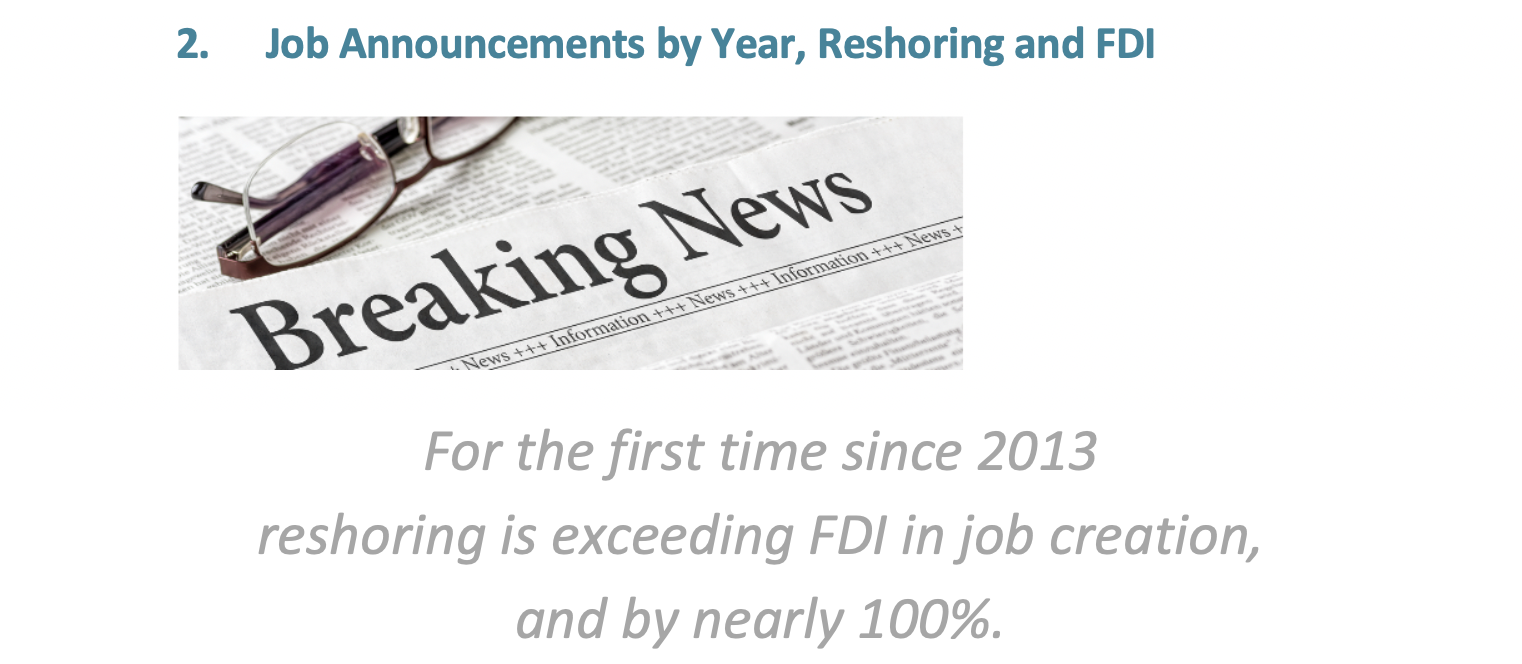 In 2020 reshoring surged to a record high of 109,000 jobs announced. We believe the strength of the trends in recent years is largely based on a combination of greater U.S. competitiveness due to corporate tax and regulatory cuts, increased recognition of the total cost of offshoring, and rising concern over China's competitiveness and favoritism for Chinese state-owned enterprises. The decline from the 2017 peak is due to business uncertainty caused by President Trump's tariffs. The 2020 recovery jump in reshoring was driven by import shortages observed during the pandemic.
The high rate of 2020 reshoring vs. FDI also indicates that U.S. headquartered companies are starting to understand the same benefit to U.S. production that foreign companies have understood over the last decade.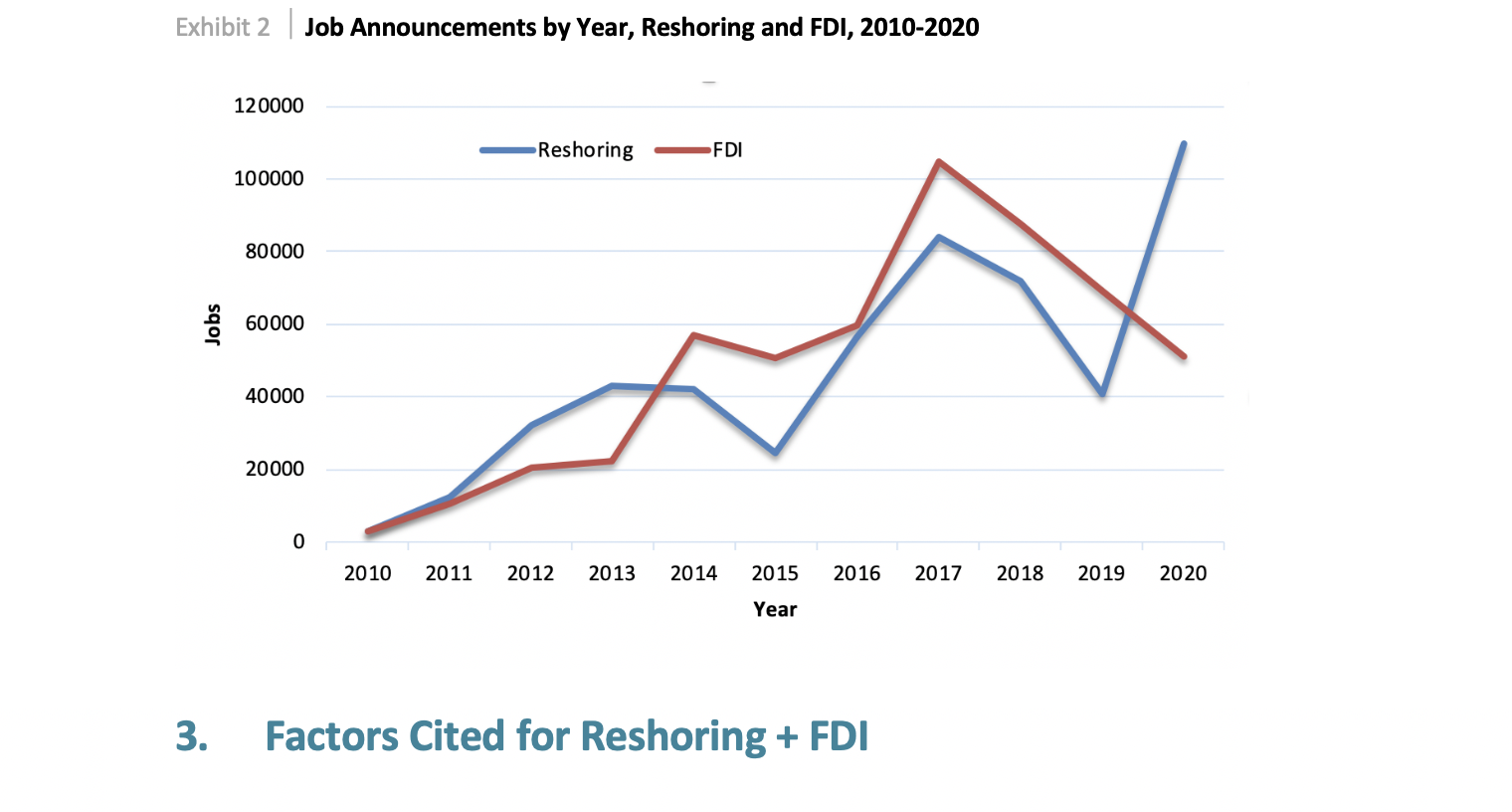 About 60% of companies decide to offshore based on comparing wage rates, FOB prices or landed costs. Much of the strength of the reshoring trend has been due to companies becoming familiar with a broad range of factors (costs and risks) they had previously ignored. Understanding the reasons other companies have given for reshoring helps companies to determine whether those reasons apply to them also. A broad range of costs and risks can be quantified using the free online Total Cost of Ownership Estimator®. The Impact of Using TCO shows that shifting decisions from a price basis to TCO can be expected to drive reshoring of 20 to 30% of what is now imported. In Exhibit 3a the percentage of work that is most profitably sourced domestically raises from 8% to 32% when the sourcing metric shifts from FOB price to TCO.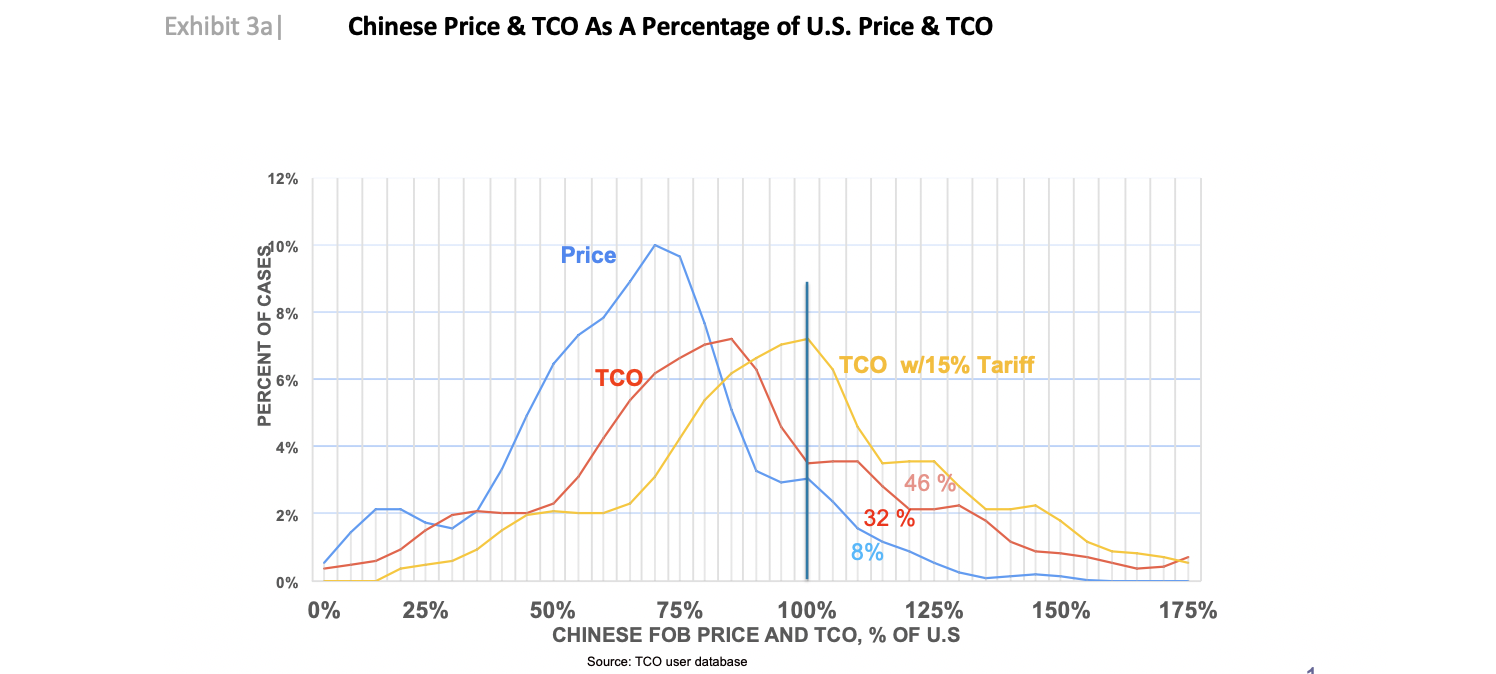 Positive Factors are the values that attracted the company to their U.S. site and that they achieved here. These factors are similar for reshoring and FDI with the following exceptions.
Reshoring places a higher emphasis on Made-in-USA image (695 vs 147), redesign of the product (284 vs 75 mentions), and impact on the domestic economy (483 vs 265).
FDI places more emphasis on government incentives (795 vs 472), skilled workforce (607 vs 424), and Proximity to customers (894 vs 472).
Since reshoring is almost all from low-wage countries, reshoring companies have increased automation to make up for higher domestic hourly labor cost. This trend more recently also applies to FDI.
Since most FDI is primarily from other developed countries, Made-in-USA is a less powerful sales argument. Shifting from Made-in-Germany to Made-in-USA has less brand value than shifting from Made-in-China.
Foreign companies can be recruited by all 50 states and often have larger projects; thus, they receive more government incentives. This may be shifting to include reshoring, with the essential products push by the U.S. government.
Negative Factors are the negative issues experienced offshore. Most of the issues are related to distance: freight, delivery, inventory, etc. Others are country-specific: rising wages, IP risk, political instability, etc.
Companies have consistently reported Positive Factors more often than Negative, probably because the companies place more value on demonstrating the wisdom of their current reshoring decision than on what went wrong with their earlier offshoring decision. Companies also do not want to offend the country they are leaving.
Overall, reporting of factors influencing reshoring and FDI has continued at a high rate, indicating heightened public interest and industry awareness of the previously "hidden costs". In 2020, cases reported an average of 8.6 factors.
Not surprisingly, the largest shifts in factor reporting in 2020 were pandemic-related. Covid-19 itself was the #1 cited factor in 2020. Negative Offshore Factors with substantial increases included: Supply chain disruption (1000% increase), Loss of Control, and Strained offshore relationships. Additionally, Green considerations saw the largest citing on record. We predicted Green considerations to become more relevant due to the new emission reduction initiative by the International Maritime Organization, along with other imminent mandates related to climate change. With heightened public awareness of climate change issues, consumers are increasingly demanding environmentally sound products. Local sourcing is intrinsically conducive to clean, sustainable production. Quality/rework/warranty remained the highest reported negative factor, cumulatively.
The rate of positive factor reporting remained similar to recent years. The biggest increases in positive factors were in Lead Time to market (pandemic related) and Underutilized Capacity (Perhaps due to decreased consumer demand in some categories due to COVID?) Citing of Tariffs, which increased 118% in 2019, fell by 50% in 2020. It is unclear if companies have adjusted to the tariffs, are waiting for them to be removed or view the topic as too politically charged.
Other factors mentioned in 2020, but not recorded in these Exhibits, include: national security, price gouging, Chinese ban on imports of recyclables, and investing to improve competitiveness.